Ron Paul & Michele Bachmann Student Town Hall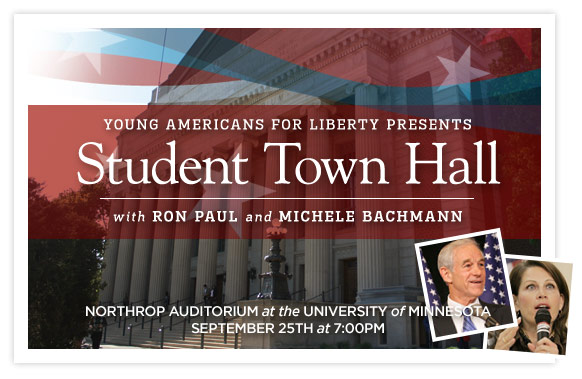 Rep. Ron Paul and Rep. Michele Bachmann joined together for a Student Town Hall hosted by Young Americans for Liberty at Northrop Auditorium at the University of Minnesota on Friday, September 25th.
This event was held on the same day as the just-announced hearings on HR 1207. It was the first opportunity to hear Congressman Paul after the HR 1207 hearings. Congressman Paul  and Congresswoman Bachmann discussed monetary reform, limited government, and a free market economy. View each of their speeches below.
Michele Bachmann
[youtube=http://www.youtube.com/watch?v=aJyYiH7g38s]
Ron Paul
[youtube=http://www.youtube.com/watch?v=YleZcGvr5UQ]
Learn more about the Young Americans for Liberty by clicking on their logo below: